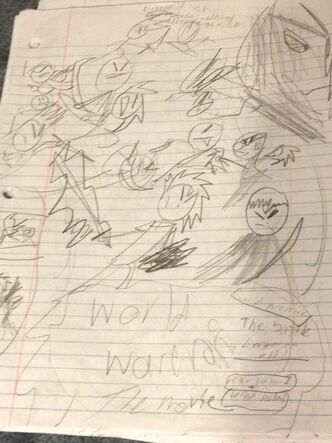 The many episodes of WoW comic adventures before cancellation! Figo orignally planned a total of 226-235 more episodes after episode 415, Operation Meltdown. However the low buget and economic meltdown caused the adventures to close out after 5 more episodes, thus the Sargares saga ended the series. Too short my friends. Here some classic comics the episodes and the pictures of each front issue. NOTE! Although the comics may be called "episodes", this is not to be compared to the show. Figo merely named each issue an episode to show abstraction at it's finest. Although the stories are the same, each issue contains typically anywhere from 4-12 show episodes; some even covering one whole season. Each is in order including the special movie that was released as an explanation between 7 and 8 (prelude to burning crusade). Each slash per episode is the rating given by RT and fans.
PART 1:
Enter the World
Ep1:The Beggining of the Journey/////

Ep3:The Town of Goldshire/////

Ep4:The Journey's AMBUSHED!/////
Landscape Demise

Ep7:The Betrayal/////

7.5:Movie: World of Warcraft FC: The MOVIE////

Ep9:The End of a Beggining////
PART 2:
Enter the Warlock

Ep12:Rebirth of a Warlock *The first episode to introduce Dagamier's Demon form.*/////
Survival of the Fittest
The Tournaments Begin

Ep15:Friendly Confrontation/Tourney: The Great Gurubashi Arena //// 

Ep20:Theft VS Antha/////

Ep21:Kelsisco's change VS Garruk pt.1///
The Ansem Chronicles 

Ep22:Kelsisco's change VS Garruk pt.2///
Ep26: Dagamier! Unleash the Beast!///
Ep28: As Time Falls Short Part 1
The Burning Crusade
Ep28: Attack from The Portal Part 2
Ep29: Blasted Lands Confrontation
Ep33: The Battle for Hellfire Peninsula
Ep35: Slave Pens (Blades Edge Arena)
Ep37: Attack on Shadowmoon Valley
Ad blocker interference detected!
Wikia is a free-to-use site that makes money from advertising. We have a modified experience for viewers using ad blockers

Wikia is not accessible if you've made further modifications. Remove the custom ad blocker rule(s) and the page will load as expected.